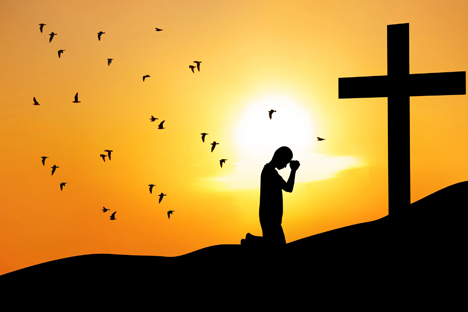 Do you know that the reason why you are yet to start making exploit as a son and daughter of God is simply because you have neglected the teachings of the bible? You have accepted Jesus Christ as your Lord and Savior but is your life still been controlled by fleshly desires? Are you still finding it difficult to obey God's word, walk in love, forgive those who offend you etc? I want to encourage you not to lose hope, if only you will apply what I will be teaching you today your life will never remain the same. I have started applying this in my daily life; I pray that the Holy Spirit of God will help you as you put this into practice.
Let me ask you, do you sincerely want to grow your spiritual life. Blessed are those who hunger and thirst for righteousness, for they will be filled (Matt 5:6). If you are thirsty for spiritual maturity here are what you should start doing?
1. Daily reading of the bible: It is a well known fact that whatever activity we engage frequently will change us. For instance should you start eating good meal from today your physical body will automatically start looking good. The same thing applies to the word of God.
The word of God is food to our spirit and it is expected from us to feed our spirit (soul) the same way we feed our physical body. Many children of God feed more than three times a day but they don't feed their spirit. How do want to grow spiritually under such condition, it is not possible. When you don't know what the word of God is saying in a situation how will you confront challenges in your life? I encourage you to study your bible on a daily basis and you will start experiencing steady spiritual growth. If you do not study the word of God you shall not grow but shall finally starve spiritually. Matt 4:4 Jesus answered, "It is written: 'Man does not live on bread alone, but on every word that comes from the mouth of God.'" My friend do you live on food and material things alone? Don't you know that you starve your spirit man when you don't study the word of God? This makes you vulnerable to Satan's attacks and manipulations (Ephesians 6: 12-17). Study this scriptural passages to understand more why you should study your bible daily. Jeremiah 15:16, John 6:63, 1 Peter 2:2, 2 Peter 3:18, Hebrew 5:11-14, Ephesians 4: 14, 15.
2. Pray always: Prayer is very important in spiritual growth of a Christian, without it his spiritual life will perish. Prayer open doors to us, it is the Holy Spirit that helps us pray according to God's will. 1 Thess 5:17 pray continually; Phil 4:6 Do not be anxious about anything, but in everything, by prayer and petition, with thanksgiving, present your requests to God. Matt 7:7 "Ask and it will be given to you; seek and you will find; knock and the door will be opened to you. Pray ceaselessly if you want to grow spiritually, pray ceaselessly if you are in trouble, suffering, persecuted. James 5:13 Is any one of you in trouble? He should pray. Is anyone happy? Let him sing songs of praise.
3. Obey GOD'S Word daily: Christians are called to walk in obedience. God expect all His children to put off the old man and put on the new man. Matt 9:16-17 "No one sews a patch of unshrunk cloth on an old garment, for the patch will pull away from the garment, making the tear worse. 17 Neither do men pour new wine into old wineskins. If they do, the skins will burst, the wine will run out and the wineskins will be ruined. No, they pour new wine into new wineskins, and both are preserved." When we disobey our earthly father he will refuse us some of the things we ask him, it is also with our heavenly father.
When we refuse to believe God, walk away from sin, forgive those who offend us, love our neighbor, reverence His name etc, God will not use us mightily. Look at 2 Tim 2:20-21 'But in a great house there are not only vessels of gold and silver, but also of wood and clay, some for honor and some for dishonor. 21 Therefore if anyone cleanses himself from the latter, he will be a vessel for honor, sanctified and useful for the Master, prepared for every good work. I ask you again, do you desire to grow spiritually? Then walk in love, faith, holiness, pray always, meditate on the word of God, forgive those who wrong you, help the needy etc. You must purify yourself, your thoughts and all you do on a daily basis, in order to retain God in your heart. Remember you can only do it by the power of the Holy Spirit. For further study; Eph 4:22-24, 2 Cor 6:1-18, Rom 12:1-2
4. Witness For Christ Everywhere: Evangelism is part and parcel of our Christian duty. Now that you are saved from bondage of sin, you should preach this word to others so that they will also see the light of God and turn away from sinful life. Matt 28:18-19 'And Jesus came and spoke to them, saying, "All authority has been given to Me in heaven and on earth. 19 Go therefore and make disciples of all the nations, baptizing them in the name of the Father and of the Son and of the Holy Spirit. Read Mark 16:15-18. When you work for the kingdom the kingdom will also walk for you. Start sharing the message of the kingdom to others; help bring those who are lost back to God. The bible said that there is joy in heaven over a sinner that repents.
5. Attend A Christ Centered Church: Christ centered Church is a worship place where the Holy Spirit of God is in charge and the word of God is delivered as it is written in the bible. It is important because there are many false prophets in the world today and some churches preach heresies. 2 Peter 2:1-3 'But there were also false prophets among the people, even as there will be false teachers among you, who will secretly bring in destructive heresies, even denying the Lord who bought them, and bring on themselves swift destruction. 2 And many will follow their destructive ways, because of whom the way of truth will be blasphemed. 3 By covetousness they will exploit you with deceptive words; for a long time their judgment has not been idle, and their destruction does not slumber.
1 Tim 4:1-5 Now the Spirit expressly says that in latter times some will depart from the faith, giving heed to deceiving spirits and doctrines of demons, 2 speaking lies in hypocrisy, having their own conscience seared with a hot iron, 3 forbidding to marry, and commanding to abstain from foods which God created to be received with thanksgiving by those who believe and know the truth. 4 For every creature of God is good, and nothing is to be refused if it is received with thanksgiving; 5 for it is sanctified by the word of God and prayer.